On
Splitcoast
, there is a fantastic
page of tutorials
for cards and other paper crafting projects and/or techniques. Each week, a new technique or project becomes available and is dispersed via the Weekly Inkling (Just sign up for this on the home page of SCS - scroll down and find it in the right-hand column. It comes out ever Wednesday.). I recently looked through this wonderful list, and as I did, I wrote down about 16 projects that I wanted to work on and try. Because I'm a little ... strange ... I didn't want to just start at the top and work down the list. So, I went to random.org, input the list, and had the site randomize it. NOW, I'm working down from the top. :)
The first project on the list was the
Swing Card
. What a cool card this made!!
This is how it looks from the front.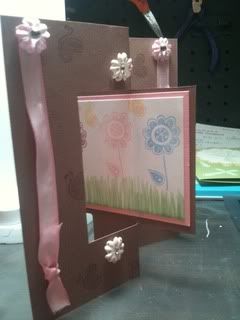 And when you open it flat ...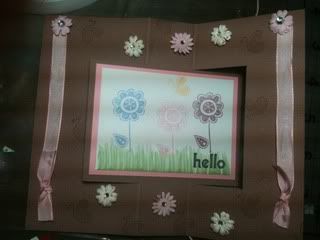 Here is the card standing up with the inside part showing.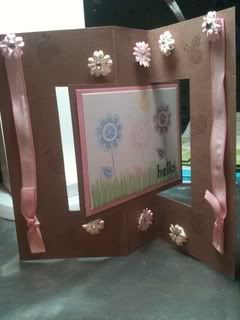 All paper is SU. The stamp set is SU's Hello Again set. It was very fun to work with. The ribbon is SU's pink taffeta and the flowers are Primas. The colored ink is SU classic and the grass was made using Copics. The black ink is Memento. Little self-adhesive crystals make up the centers of the Prima flowers.
Try a new project or technique this week!!!!
Have a beautiful Monday night and a great, big, beautiful tomorrow!!!
~*Shell*~