Happy Easter weekend! It's almost Friday, but SUNDAY is coming!!!!!!!!! :) :)
The next project on my list to try was the
Tri-Shutter Card
. Wow. What a fun card when it's done!! It gives you so many places to embellish and express yourself.
This is what the card looks like lying down.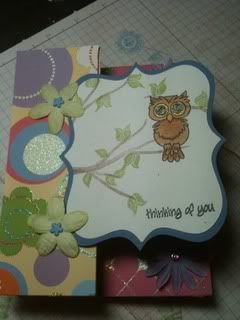 Opened up, the card can show it's colors and flair.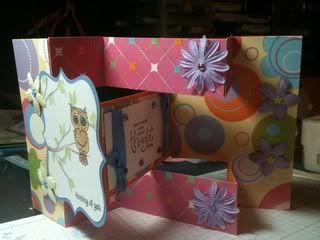 The card opened up with the sentiment showing.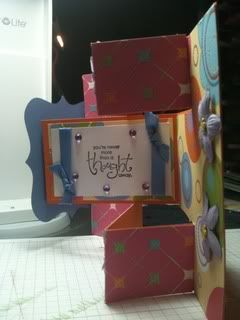 The card base is SU paper. The designer paper is from DCWV, I believe. It's such fun paper that I just had to use it here. The image layer and background were cut from SU paper using SCAL. The image is from What A Hoot by
Clear Dollar Stamps
. The flowers came from a variety of sources. The flower brads in the center of some of the flowers are from Spare Parts. Other flowers are embellished with crystal brad centers, and self-adhesive crystals adorn the sentiment layer.
Can't wait to hear what you have to say about this one. It is such a fun card. I can just imagine receiving one of these for some occasion .... can't you????
Happy Easter. Please attend a house of worship somewhere this weekend.
~*Shell*~