My dear husband and I will celebrate our 22nd wedding anniversary on Friday. I, of course, need a card for him. :) The style/design has been in my mind for a while - or at least, the basic card shape has. The details got worked out as I worked on the card.
One of my goals this year is to use as many of my stamp sets as possible. Since I don't sell or give away any of my retired sets, I have .... a few ... sets (ha ha ha ..... A TON). I pulled out Loads of Love - always a great set to use - for this card. I added SU's new sets - Whimsical Words and Well Scripted. I requested the unmounted version of these sets, and I really like them. The labels for the back of the stamps are a little hard to deal with, but overall, I really like the unmounted option.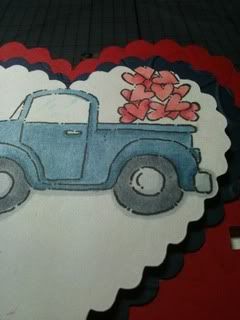 The tent card style has just hit me as a lot of fun and very classy at the same time. So, I ran with that on this one, too. I used SCAL to weld a scalloped heart (from an online picture of the Fiskars punch ...) to a rectangle. That's the red base of the card - which is actually mounted on a white pre-cut card from Michael's (LOVE those things ... save me a lot of time). Then, a blue heart and white heart were layered and cut in SCAL. The blue heart was embossed using the Cuttlebug, and the white was stamped with the truck and hearts from Loads of Love. All coloring was done with the Copics, and all paper used is SU.
The label punch was already in SCAL from a previous card, so I used it for this one as well, but had to size it down a bit. Well Scripted was used for the front sentiment. The white ribbon going across reminds me of a seat belt! LOL! That's kind of appropriate with the truck on there. :)
I used the label file again (sizing it a little larger) for the inside of the card. And the red piece here is also embossed using the Cuttlebug.
The front just wasn't complete until I found these adorable beads in my stash! A piece of red satin ribbon is used to tie these cuties to the white ribbon on the card. A dab of glue was used to keep the knot from coming untied and the end from raveling.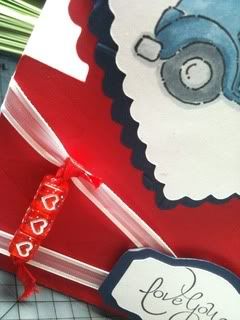 Three self-adhesive pearls added just a little touch on the corner and completed the card for me. I hope he likes it!!! He's an amazing man - and he fully supports my stamping habit. :)
Have an awesome Saturday night!!! US folks - Don't forget to set your clocks *forward*. Yeah, we lose an hour tonight. :(
Oh ... and have a great, big, beautiful tomorrow!!!!
~*Shell*~