Many times my northern friends get snow in the spring, but we rarely do. Interestingly enough, last Saturday was a fantastic, 75º day, but Monday, we had snow flurries!! Oh my. Bizarre-O weather!!
To celebrate the spring and the beautiful spring weather, I thought I would post a project to remind of us of where we were not long ago - in the folds of the cold winter (and it's been a COLD one here in Georgia).
This snowflake was SO easy to make.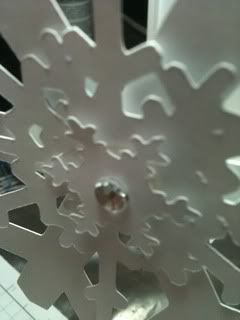 I combined several images in SCAL (all in the winter section of the supplied shapes in SCAL) and cut them. Two holes were put in to accommodate a piece of string or hanger of some kind.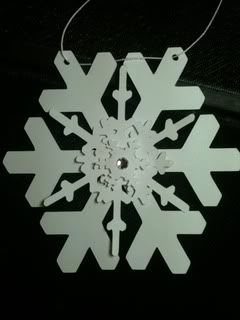 All of the pieces were put together using pop-up glue dots and a crystal was added in the middle for a little bling. This project turned out soooooo cute and sooooo easy!!! Can't you just imagine what it would look like with a little glitter or a tad more bling? This would be a great thing to adorn Christmas cards - a keepsake from the card. Cut, adhere, bling, and hang. What could possibly be easier??
Have a beautiful Saturday and a great, big, beautiful tomorrow. Please celebrate Palm Sunday in your place of worship. :)
~*Shell*~