SCS had a great VSN event the weekend of the 26th and 27th. There were so many wonderful challenges. The theme was the Olympics, and all of the challenges had something to do with that theme. One challenge that I couldn't complete during the weekend was the "
Winner's Podium
." It involved learning how to make a stand-up, pop-up card. While I love learning new cards, I didn't have time for that during the weekend. So, I did it tonight. :) It's not the best card, but I can see wonderful possibilities when paired with SCAL and the Cricut. A little elephant or bear on the pop-up part for a baby card?? A flower for a friend? Yep ... I think that could be fun.
Here, however, is my first attempt.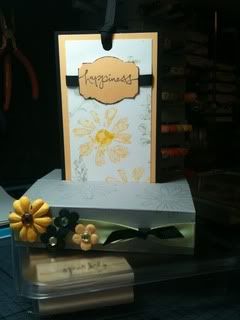 The challenge has a link to the instructions. It was much easier than I expected it to be. :) Here are a couple of close-up shots of the stamping and embellishments.
All paper was from SU (Going Gray, Apricot, black, and white), ribbon was SU (black grosgrain and green linen), flowers were Primas, and stamps were from SU (Petal Prints and Warm Words). Ink was black Memento and VersaMark. Flowers were stamped with Watercolor Wonder Crayons used directly on the stamps.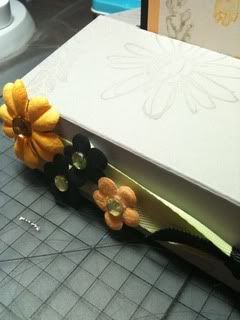 Let me know what you think!! Have a wonderful day and a great, big, beautiful tomorrow.
~*Shell*~