The card I'm sharing today is not anything outrageously extraordinary or anything, but it does have a special significance. "What significance?" you might ask. Well, this card encouraged me to try something that I had pondered for quite a while. First, let me share the card ...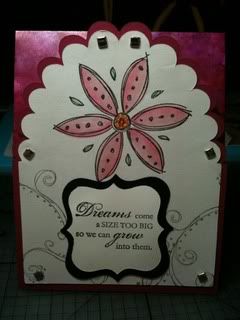 The card is created with a glossy base - colored with the polished stone technique. The scalloped pop up part was created in SCAL. The flower and sentiment are from SU stamps. This is the front. It's a tent card, so the inside holds a little more than normal cards...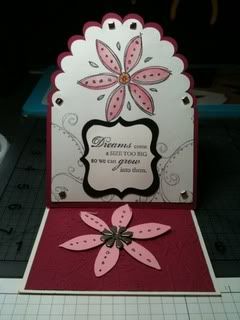 If you notice, fhe flower on the inside of the card matches the Doodle This flower on the front of the card. To my knowledge, there is no punch for this flower, but there IS SCAL! :)
I stamped the flower and took a picture of it ....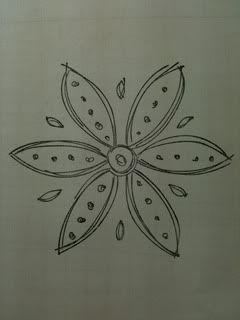 I took that flower into Paint Shop Pro, colored it in with black, converted it to .jpg, and traced it into SCAL. I, then, sized it the way I wanted it and cut. The flower is a great accent to the stamped image. I can imagine making cut-outs of the stamps I like to have shadows and cut out images all the time! How fun!!!
I hope this helps add some versatility to your Cricut and crafting. I love being able to use my 'stuff' together. This will make me enjoy both the Cricut AND my stamps even more (is that possible?!).
Off to complete some challenges. Have an awesome Friday and a great, big, beautiful tomorrow. :)
~*Shell*~