Yippee!!! I'm getting the hang of those little crocheted flowers. Today, I made several, and then, I made a card with them! :)
Aren't they adorable???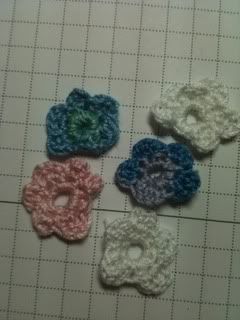 I was going to put a layer behind the image on this card, but I got some of that malware - malicious software (XPDefender ... YUCK!!!!!!!!) - on my computer. My first response to things like that is to #1 - turn off my wireless connection, and #2 - shut down my 'good' programs. So, I couldn't use SCAL to cut the shadow-type layer of the scalloped oval.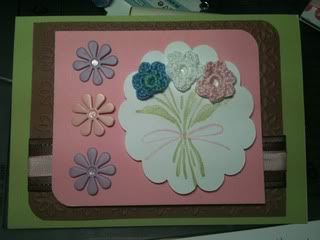 The paper is all SU - pretty in pink, chocolate chip, always artichoke. The flowers were made using size 10 crochet thread and a size 7 hook. The flower brads came from .... somewhere. Sorry. I have no idea where I got them.
I was going to put a crystal in the center of each one of the brads, but for whatever reason, those little suckers wouldn't stick tonight. So, I resorted to coloring the center of each brad with my trusty Gelly Rollz glitter pen.
The stamp set is the Easter one from SU that came out several years ago. It worked *perfectly* for the stems of my flowers. Ink used - always artichoke and pretty in pink. The ribbon is from SU - chocolate chip satin and pretty in pink taffeta. Pop dots were used for the oval and for the pink layer. The Cuttlebug was used to emboss the brown background layer, and my Zutter Round It All was used to round the corners.
The blue flower actually was made using variegated thread. It has made some of the coolest flowers. I need to find some more colors of that. :) Too much fun.
If you are a member of SCS, please keep in mind that the site will be down tomorrow from 10 AM - 3 PM (eastern) as they migrate over to the new servers. I guess I will work out and create while the site is down .... I might actually get something done without that particular ... distraction. :) :) Love my SCS. Information about the migration can be found
here
.
I will try to create some more tomorrow and post. Hope you have an awesome Monday night and a great, big, beautiful tomorrow.
~*Shell*~