Yep. I had to try making a stand-alone, pop-up card with the assistance of SCAL and my Cricut. Welding a couple of scalloped squares with a regular rectangle gave me the scalloped edge for the base that I had envisioned last night. Then, I cut a daisy silhouette top for the tag. I decided to cut the silhouette from black (genius there, huh?? :) ) and to put blue (like the sky) behind it. Blush blossom is used on top of the black. I needed a white layer, too, or I thought I did, anyway.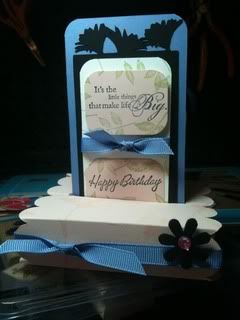 All of the paper is SU. The stamps are SU, as well ... Petal Prints, Warmest Regards, and Happy Harmony (I think). Blush blossom ink and certainly celery inks were used. Blue grosgrain ribbon and a black flower (from Hobby Lobby) were used for embellishment. Blush blossom was used for the sentiment layers on top of the white.
The hole for the tag had to be cut a little bigger to accommodate the tied ribbon. I wanted to show that it folds flat (or flat enough to mail, anyway), too.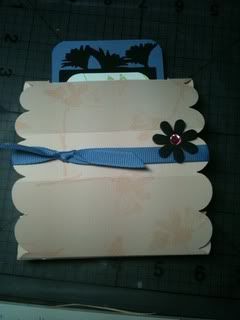 There are many fun thoughts for this type of card. Can I challenge all of you to try it?? I wanna see what you can come up with. Put a comment on this post with a link to your project. I think you guys can do an amazing job with these cards. Rock it!!!
No post tomorrow, but I'll be back on Thursday.
Have an awesome night and a great, big, beautiful tomorrow.