I was hoping to get several layouts finished today. My Fruit of the Spirit scrapbooks has 4 layouts that have very little on them. I started with "gentleness" because it had no title or embellishments. Unfortunately, that's the only set that I finished. Fortunately, though, I really like the pages.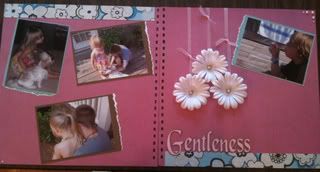 The title was cut using SCAL. The flowers were given to me in a secret sister swap last year. I LOVE these flowers on the page. The corners are adorned with self-adhesive pearl dots.
I created a new flower today, too!! :) This one is NOT quite as ... warped ... as the one from yesterday. It's a lot more even.
What do you think??
I still need to work on the middle, but the petals are even. I'm thrilled with that! :)
I hope you al have a wonderful evening. I'm going out to dinner with my hubby and kids.
OH .... and have a great, big, beautiful tomorrow!!!! :)
~*Shell*~