Recently, a friend's son went to basic training for the US Air Force. Last week, I created a card to encourage him through the tough training.
I searched the internet to find an Air Force logo. I copied it into Paint Shop Pro, changed it to black and white (instead of the traditional blue and white logo colors), and traced it in SCAL. Ahhhh .... Blessed SCAL. :) :)
Originally, I planned to take the pieces of the logo and recreate it on a card. As I worked on doing that, I realized just how frustrated I was going to get trying to get it even and straight. That's when I had a revelation (DUH! Yeah, I'm slow ...). How about using the 'negative' image. Yes, yes ... I've done it before on other cards for other reasons, but that wasn't in the forefront of my mind for this card.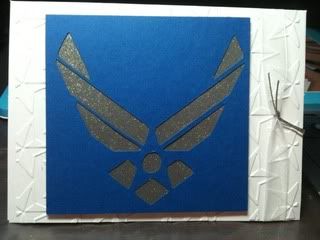 I backed the blue, 'negative' image with basic gray and colored with the Gelly Roll glitter pen in the open areas. I wish that I had done a shadow layer and/or a edge punch/shape on the blue layer, but I didn't. :) The white background is embossed with a stars folder on the Cuttlebug, and white ribbon was embellished with a small piece of silver cording.
I hope that it encouraged Austin in many ways. Unfortunately, I found out yesterday that he will be medically discharged and back home in 2 weeks. He went through so much to get to basic training, and I just hurt for him and his family. I know he is so disappointed in this development. There are great things ahead for him, though.
Have a wonderful Sunday and a great, big, beautiful tomorrow.
~*Shell*~