The pieces for my March swap challenge were SO fun to use for creating. When the pieces came, I immediately had to color those spring/Easter images! This was actually my 2nd creation with the kit, but I'm sharing it first.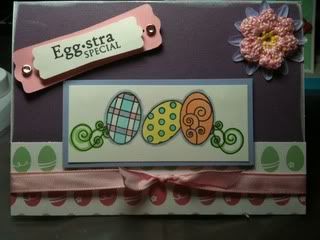 The egg image, egg paper, sentiment, and ADORABLY cute pink flower came in the kit. The flower behind the pink, crocheted flower is from some that I had on hand. I thought it helped set that flower off.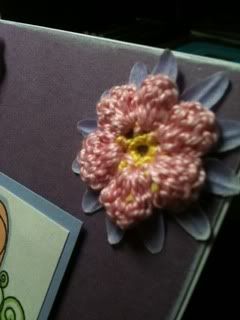 In order to create a background for the sentiment, I flipped it over, placed it on a black background, and took a picture. I changed it to ,jpg and imported it into SCAL to size it and cut it. Worked wonderfully. Have I mentioned how much I LOVE SCAL?! :)
The eggs were colored with Copics, and all paper used was SU. The ribbon is pink taffeta, and the brads have the cute little crystals inside. I'm not sure if those are SU or another brand. The image is set up on pop dots and the sentiment is up higher on pop dots.
Today, I'm creating 20 Easter cards (which I showed here several weeks ago). I had to get the mojo and umph to get those going. I don't like 'mass producing' very much, so it took a kick in the bum to get that moving. They are almost done now, though, so I can start something else on Saturday. SU order is coming tomorrow, so I should have plenty to play with Saturday.
No post tomorrow - out of the house all day.
Hope you have a wonderful Thursday evening and a great, big, beautiful tomorrow!!
~*Shell*~