Recently, an elderly friend at church moved to an assisted living home about an hour from here. She can, of course, no longer attend our church, and she was SO upset about leaving. She's been there for a very long time. She's a wonderful, wonderful lady full of wisdom and class. I wanted to make sure she knew that we weren't forgetting her and that we were missing her, too.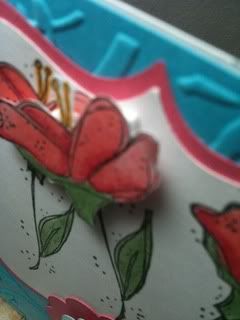 I used an older set for this card - In Full Bloom. Remember when that one came out and everyone HAD to have it NOW? The beauty of the set hasn't faded, but it's not used as it originally was. Since I'm trying to use all of my sets this year, I pulled that one out instead of Petal Prints - which I used the other day.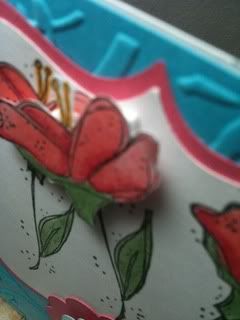 I've mentioned before how much I hate cutting things out, but I ended up doing it *twice* on this card. What's up with that? Anyway, one flower and the bee are all cut and pop dotted. The image layer and background for it were cut with SCAL and the Cricut, as were the scalloped circles. All SU paper is used for this card. The teal background was embossed with the Cuttlebug, and the images were colored with ... yep ... Copics. The bee's wings were colored with my Gelly Rollz glitter pen.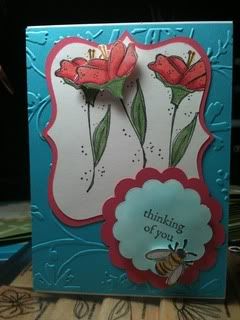 It's a pretty 'normal' card considering all of the tent cards and specialty cards I've done lately. I ran out of time tonight, though. :) Perhaps tomorrow.
Let me know what you think! :) Oh ... now, I need to go find the address of that assisted living home.
Have an awesome Monday and a great, big, beautiful tomorrow.