Ever get a bee in your bonnet to do something totally out of your comfort zone?? Well, I did. A friend at church was teaching a class on crocheting. I thought that I would go and see if I could do a little bit of it. I was hooked .... pardon the pun. :) I've made 6 scarves since that day .... February 27th ..... out of various yarns.
During this time, I received the challenge swap kit for March from Roxie. Inside this kit were some absolutely adorable little crocheted flowers. :) I neeeeeeeeded some more of those!!!!! I didn't want to use them because they are sooooo adorable, but I did use them on the two Easter cards (one is
here
). Here is the second one (actually done first, though ... :) ).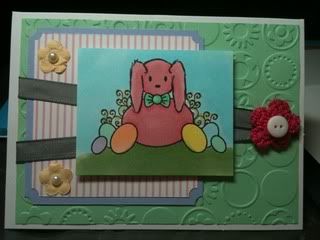 And a close up of the adorable flower ...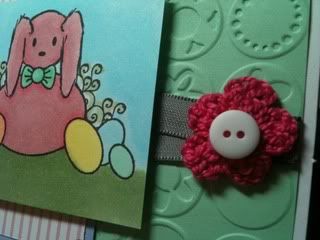 The bunny image was in the kit, as were the designer paper, flowers, and green paper. I embossed the paper with the Cuttlebug, added basic gray taffeta ribbon, a button on the flower, some Prima flowers, and self-adhesive pearls, and put it all together. The bunny image was colored with Copics.
Now ... where am I going with this?? Well, once those precious flowers got in my brain, I had to learn to make them. I've scoured the internet for instructions and such. Since I'm very new to crocheting, all of the terms had to be researched before I could even start the process. I tried the flowers from this site with regular yarn and an H hook. Yep. I made a flower. It's not something I would want to use on a card, but it was great practice. With the help of a great SCS friend (thanks Tam!!!), I purchased the correct hook and thread today at Joann's. This is NOT perfect, but for my first time with it, I think I did ok. Hey .... flowers aren't all perfect in nature, either ..... It has one extra-special petal ..... :) BUT ... I WILL conquer this!!!
That's where my time went tonight. Hopefully, I will have a couple of layouts to show off tomorrow night. We have Family Fun Day on Saturday, so I probably won't post on Saturday or Sunday. Maybe I will get lucky and get to create on Sunday.
I hope ya'll have an awesome night and a great, big, beautiful tomorrow! :)
~*Shell*~