Don't you just love spring and Easter??? I love the change in the weather (although, I'm not nuts on it changing ... changing back ... changing again ..... Oh well. I guess that's what I get for living in Georgia) and the flowers coming out. I love seeing all the cute Easter things in the stores, too. Recently, we ate dinner at
Cracker Barrel,
and they had an adorable sugar egg diorama. Those are SO cute. You know ... like the one
here
. Super cute. That little egg got me thinking, though. I wanted to make one with my Cricut. Ok, not quite the same, but in card form.
Here is the finished product ...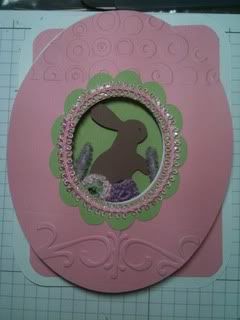 No, it's not exactly like those precious sugar eggs, but I think it turned out pretty cute.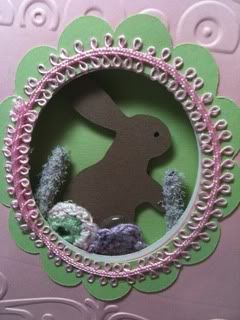 The majority of it was cut from the Cricut - using SCAL. The egg card, egg layer on top, back egg layer, the scalloped circle around the hole, and bunny were all cut using SCAL. Foam tape was used to set the layers apart and give the depth- 3 layers of foam tape. All paper is SU. The crocheted flowers are done by me, and the flowers that stick up use duct tape (rolled into a 'stick') and Flower Soft. I know ... not exactly the conventional way to use it, but I tend to play by different rules. :) The bunny and crocheted flowers are on pop dots.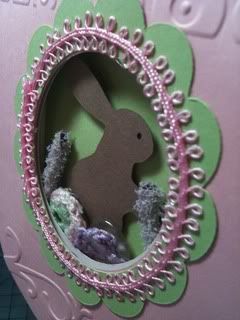 The ribbon is not handmade. I have no idea where it came from, but it was perfect for what I was aiming for on this card. The Cuttlebug was used to emboss the top and the bottom of the front layer egg.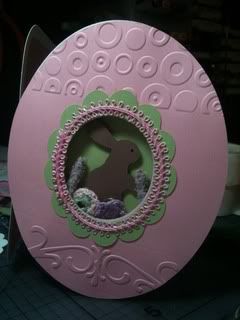 Let me know what you think. It's kind of like a shaker card, but a little less technical since there's not 'stuff' to fall out all over. :)
Hope you have a happy Thursday and a great, big, beautiful tomorrow! :)
~*Shell*~