Recently, Memorial Day was recognized in the US. Although some of the details about the holiday's origins are debatable,
usmemorialdayhistory.org
has some of history about the holiday if you're interested in finding out about it. Because the holiday honors our fallen military heroes, I've decided that the first challenge that I'm presenting is
Celebrate Our Military and Our Freedom
.
Choose one of our military branches -
Or .... choose something patriotic like the US flag -
to create a card or project. Honor our freedom; honor our troops; honor our country.
I will show another take on this challenge tomorrow, but my example tonight is a card that I made my son some time ago. He is a US Marine, and I'm proud to honor the US Marine Corp by making a card with them in mind.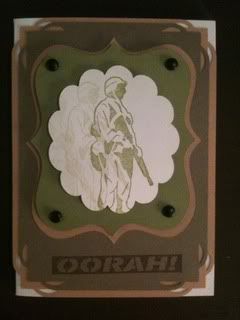 Post a link in your comments! I'd love to see what you make for this challenge. I will comment on each and every project posted.
Have a wonderful Thursday and a great, big, beautiful tomorrow. I plan to spend my tomorrow in the Haven!!!! :)
~*Shell*~