Clearly iStamp
has a challenge each month on the first Friday. Participants have until the first Friday of the next month to complete the challenge and post a link to a project related to the theme. They love for you to use Clear Dollar Stamps if you have them, but they are not required. The winner is randomly picked, and great prizes are offered!
The theme this month is Birthday Bash. According to the site .... The challenge will close on July 1 and the winner will be announced, along with the next challenge, on July 2nd.
After going through the CDS stamps in my stash, I decided to work with a set that I've not used yet. Critter Log is super cute! I love this little set. The bunny was precious, so that's where the project started. Christian Birthdays was also used on this card.



Isn't he adorable?! He is, of course, colored with Copics an
d mounted on SU paper - night of navy, certainly celery, and basic gray.
The night of navy paper was stamped with VersaMark using the one of the stamps from the Leaf Impressions set. The base is creamy caramel and has been embossed with the Cuttlebug. The brads are from my stash.


















The sentiment is mounted on night of navy, as well, and the ribbon on the card was from the SAB ribbon bundle, I believe.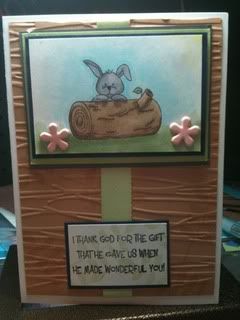 Tomorrow, I will show another project that I worked on this weekend.

Have a wonderful Saturday and a great, big, beautiful tomorrow! :)


~*Shell*~