What was your take on yesterday's challenge? Have you tried it yet? I hope that if you haven't, that you will try it this weekend or when you get a few minutes to craft.
When I began creating this card, I knew that I wanted to use my Cricut and SCAL. I had a 'vision' of the pieces I wanted to use. So, I set to work. I wanted a red circle (or part of one), a blue star, and white wavy lines. As I continued the design in my mind, I decided, that I wanted another white star to be the 'image' layer.
Here's how the pieces were placed in SCAL to be cut ....
The paper was put on the mat like this ...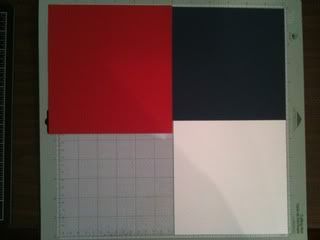 This allowed the pieces to be cut at the same time and with smaller pieces of paper. I would have used scraps if I had scraps that were a little bigger than the pieces I was cutting. Instead, the pieces used were about 6x6.
It's been a while since I've used eyelets for a project, so I used some wonderful stars on this one. The stars were placed on the corners of the white sentiment layer. The tool that I used was from Eyelets Etc out of Denver, CO. I found it at CHA last year. It has nibs to cut the holes and to set the eyelets. Pretty cool little tool.
The set used on this card was from SU. It's a great patriotic set. The sentiment came from the patriotic sentiment set, also from SU.
The edges of the card were brushed with the black ink pad, and the edges of the blue star were brushed with a little bit of white craft ink.
The image was stamped with Memento Tuxedo Black and colored with Copics.
So, there's my take on the patriotic challenge. I can't wait to check out what you do.
What's coming up? What's the new plan? Beginning Monday, I will begin 'theme days.' Each day will have a specific plan.
Monday - Mojo Monday...what gave me my inspiration this last week or weekend.
Tooty Fruity Tuesday - Tutorials (for now, on SCAL)
Use Those Thingies Thursday - A challenge day
Free File Friday - a free .jpg file will be offered each Friday for you to use
I hope this will be beneficial for my readers. If you have suggestions, I'd love to hear them. If you have questions about SCAL, the Cricut, or stamping, I'd love to address them here on the blog.
Let me know what you think - about the project and about the plans.
The plans are exciting for me! I hope they are for you, as well!
Have an awesome Friday night and a great, big, beautiful tomorrow!!!
~*Shell*~
****** Just a note - the images on this page WERE resized *before* being put on here, but for some reason are HUGE on some computers (including mine ....). They small on Photobucket, and that's all I can do with them. I'm sorry.