Did you have inspiration to create this weekend or last week? What was it? What take on it did you have? Will you share with me? I'd love to see it!!
My daughter is 4, and she has an adorable room Recently, she got a 'big girl bed' to go in there. The new comforter and bedding she picked out doesn't really match the room, but she - like any good 4 year old - doesn't care. :) I wanted to add a few things to tie it together.
First, I took pictures of the bedding.
I converted these to black and white pictures and imported them into SCAL. A little sizing, copy, pasting, and it was time to cut.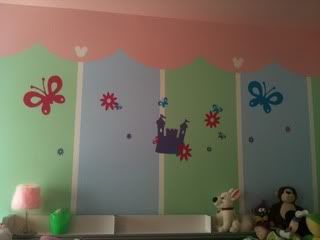 The images are cut from vinyl (purchased from Signwarehouse.com - Oracle 631 vinyl) on the Cricut. They cut like butter and stick wonderfully. They leave no residue when removed from the surface and are wonderful decorations for almost any room - you can even use vinyl cuts on your vehicle!
Let me know what you think and what inspired you to create this weekend!
Have a great Monday and a great, big, beautiful tomorrow.