Summer nights .... fireworks, watermelon, and stars .... Oh, and little bugs. :) :) What great things to think about during the summer.
I went on a search for a fireworks picture. I wanted to import it into SCAL and cut it for a card.
The negative image of the fireworks is actually what was used in this project. It was cut from night of navy paper. Glossy paper was used for the background. Alcohol inks were used to make the background on that glossy paper. Silver, stream, and eggplant colors were used.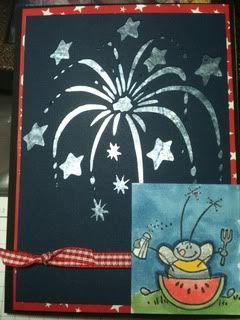 The colors aren't very discernible on the background, but the effect is nice for this card. It shines wonderfully ... just like the fireworks in the sky.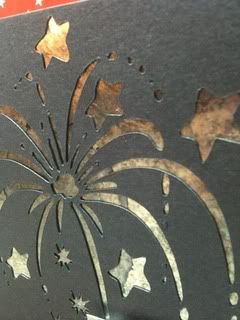 The little bug stamp used on front was found at Hobby Lobby on clearance last week. He was just adorable and had to come home with me (along with several other stamps, of course...). He is colored with Copics and accented with a Gelly Rollz glitter pen. The image is mounted on 3D glue dots. The patterned paper was from a paper stack and the ribbon from SU,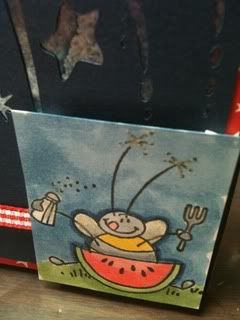 Tomorrow will be our first installment of Mojo Monday! Hope you had something that inspired you this weekend. I can't wait to share what inspired me and what I did with it.
Have a great Sunday and a great, big, beautiful tomorrow.
~*Shell*~