Having a girl in the house after 14 years of only boys really changes the birthday cards you have to make. :) We're doing a lot of princess parties and cards lately. Continuing on my list of cards/techniques that I wanted to try, next on the list was the
Flap Card
.
The
tutorial
for this card uses the Coluzzle and tiny magnetic closures. I didn't have (or use) either, so I improvised. I used the Cricut to cut my strip - it was 3 1/4 x 10 3/4, a little different from the instructions and added a crown for the closing flap. I had a larger magnet set and used that for my closure. I used pop dots to set the layers up over the magnets so that they wouldn't stick up under there.
Here's the inside of the card.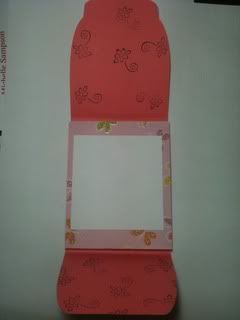 All cardstock is SU, but the patterned paper was found in the $1 Spot at Target. The crown image was found online and converted to SCAL The princess set is from SU, as is the sentiment set. The princess was colored with Copics, and the crown was adorned with self-adhesive crystals. The crown was also embossed with the Cuttlebug.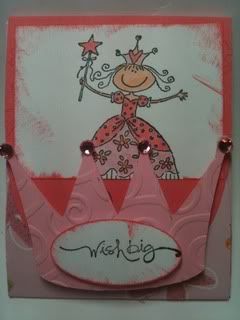 This was a fun card to make, and I look forward to making others with different flaps and themes.
I look forward, too, to your thoughts and opinions!
Have an awesome Saturday and a great, big, beautiful tomorrow.
~*Shell*~