My daughter has a birthday party to attend on Saturday. It's for a girl and a boy - brother and sister - that are almost exactly one year apart. The princess flap card from a few days ago is for the 5 year old little girl. The card today is for the little boy.
The Ahoy Matey set is sooooo much fun to play with and to color.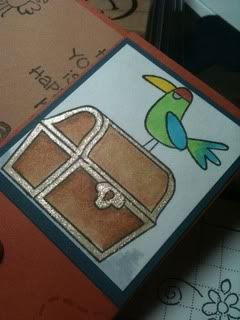 All paper used is from SU and the Ahoy Matey set is also from SU. Copics were used to color the images. This is a double-fold card.
The inside was covered to allow for the sentiment and signature. Two larger brads allow the hemp twine to wrap around to keep the card closed. A piece of sandpaper was used to 'roughen' the surface of the card base and, after noticing distress on the surface of the brads, to roughen the surface on the brads. A gel glitter pen was used to add some glitter to the sword, hook, and treasure chest. I think Zachary is going to love his card, and while looking for his gift, we found an awesome book of pirate puzzles just for him! :)
Let me know what you think. :)
Have an awesome Thursday night and a great, big, beautiful tomorrow.
~*Shell*~