My son, as some of you know, is a US Marine, and he's presently in Virginia. We text often, but I've not sent him much real mail. I decided yesterday that he probably could use a little 'happy' mail, so I created a card for him last night.
It's certainly not the most flamboyant or extraordinary card, but I think it will work for him. The shapes were cut using the Cricut and SCAL (bet you knew that... :) ), and all paper is from SU. The stamps are from a Marine unmounted set that I bought online just after Christmas. I stamped it three times without reinking it. The backgrounds were corner-punched with a punch that I've had for several years. Not sure where it came from. Simple black brads were used on the layers.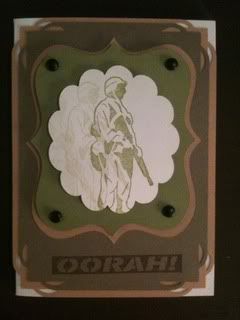 And, I ran across a great hint for Cricut users today. If you use one, you should
check this out
!!
Let me know what you think!
My next project is a Tunnel Card.
Hope you have an awesome Thursday night and a great, big, beautiful tomorrow!
~*Shell*~