Well, this wasn't the card I was going to post today, but the other card is still on my phone - and my 4 year old is using it (see me rolling my eyes..). I will post that one on Saturday, I hope.
This card isn't anything spectacular, but I thought that it came together well and that it has a very 'male' feel to it. It's tough to make a good masculine card, and this one was for encouragement. That made it a little harder.
Recently, I made, and posted, a card that was made for Austin while he was in basic training for the Air Force. This card was also made for Austin to encourage him on a
special weekend
that he is attending.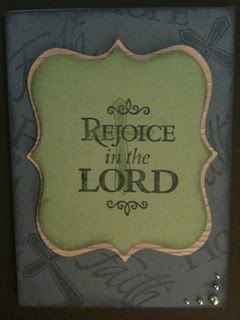 The image layers were cut using SCAL. The background was stamped with images using VersaMark, and the background of the image layer was embossed using the Cuttlebug. The sentiment and cross are from an inspirational, rubber, unmounted set that I got from Hobby Lobby, I think. Little gold, self-adhesive beads were used in the corner to add a little bling, and the image layers were put on pop dots.
All paper came from SU. :)
Challenge card on Saturday (I hope...).
Have a fantastic Thursday night and a great, big, beautiful tomorrow!!
~*Shell*~