Tomorrow is my son's 14th birthday! :) He's an amazing kid, and I'm so proud of the man he's becoming.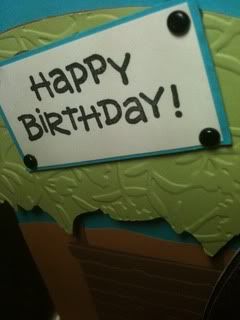 One of the cards I made today was just for him. Last month, I used some of my Sale-A-Bration rewards to get Surf's Up. This would be an excellent set to use for a boy's card. It worked really well for this one, though.
With the surf board, I wanted a Tiki bar setting. I searched the internet and found one to use. The tiki bar was copied, traced in SCAL, sized, and cut twice. It was cut once in brown and once in green. Then, the top was cut off of the green to add to the brown. The green and the bottom of the brown were embossed in the Cuttlebug before being adhered to each other. The green top used regular ATG adhesive at the top and a line of pop glue dots (two layers) at the bottom. This gave it a look like a sloped roof.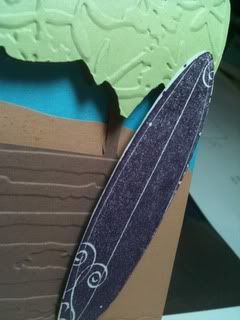 An oval was created in my graphics program that was identical in size and shape to the surf board image. That was transferred into SCAL and cut. Using the Stamp-A-Majig, the surf board was stamped on the oval Pop glue dots were used behind the surf board when adhering it, as well. The Smile set was used for the Happy Birthday, and four black brads were used on that to make it look like a sign on top of the Tiki bar.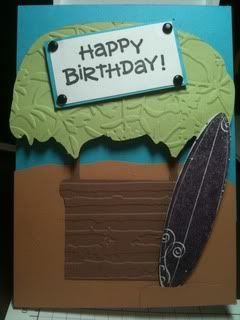 I wish that I had used Swiss Dots to emboss the sand, but I didn't think about that before I adhered all of the background layers to the card. I'm basically happy with the way the card turned out, and I think Jonah will like it, as well.
I'd love to hear your thoughts!! :) Let me know what you would do with this card.
Have a great day today and a great, big, beautiful tomorrow. I know that I'm going to have a wonderful tomorrow because I'm going to spend it with the most awesome 14 year old in this world. :)
~*Shell*~