A
Tunnel Card
... that was next on my list of 'challenges' for myself. The time to tackle that one came yesterday. Such a cool card ... but my, my! That one does use a LOT of cardstock. There may be ways to conserve, but for the first one, a lot was used. I will have to work on some conservation techniques if I choose this type of card again.
I used the
tutorial on SCS
to create my first one.
The outside of my first tunnel card -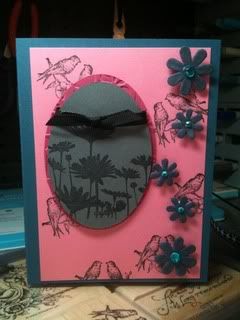 All cardstock is SU. The stamp set used was Upsy Daisy and the birds are from See From the Heart (I think ...). The dark pink layer was embossed with the Cuttlebug, and the flower embellishments are from Hobby Lobby. Only black Memento ink was used on this card.
The inside of my card looks like this -
The oval was cut using SCAL and the Cricut. The inside oval layer was sized and cut that way, as well. Next time, I will use a different shape and have a little fun with it. I think some 3D image use there would be a blast. Oh, the ribbon is black SU grosgrain, and the pink is from PTI, I believe.
So, what do you think? Gonna give it a shot? It really is a lot of fun. I hope you try it. I would love to see what you do with it.
Hope you have a great day and a great, big, beautiful tomorrow!!!
~*Shell*~