Valentine's Day is coming up quickly! Have you gotten your design(s) together for your cards!? This year, I needed 7 cards. I think that's the most I've needed since I was, like, 10. LOL!! Anyway, I got started on them the other day with my older son's card. I've not shared it on here, yet. The next card was for my niece, and the one for today is the one I did for my younger son.
The images are from the Indie Art cartridge (which I own), but were actually cut using SCAL. The interface on SCAL makes it a bit easier for me to work with than the Design Studio, so I imported the images and cut from SCAL
.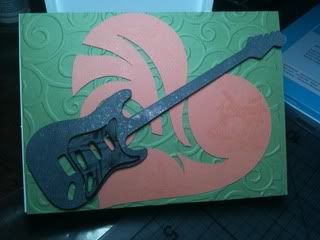 This is another simple card with very little stamping involved, but I really like the way the card came out. All paper is from SU. The guitar is spritzed with Glimmer Mist, and the heart is stamped in VersaMark with a drum set image from a clear set (unknown manufacturer). The background is embossed with the Cuttlebug swirls folder. Black ink was used around the middle section of the guitar, and that section was put on double pop dots. Pop dots were used on the main part of the guitar, too.
So, so you think my 13 year old will like it?? :)
Tomorrow ... the card for my 4 year old daughter.
Have a wonderful night and a great, big, beautiful tomorrow.
~*Shell*~