My son is almost 14, and recently, he became the new owner of my little Cricut. I knew that he would enjoy creating something with a pretty cool tool. When we got word that baby Kenzie's birth was imminent, he decided to make a card to welcome her into the world. He got out the Cricut and got to work.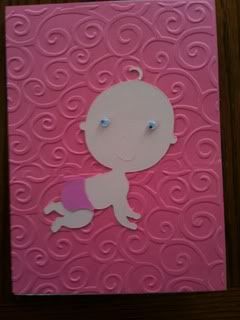 He used New Arrival for the baby and the baby diaper. The baby and diaper are cut using paper from SU. Then, he added some wiggly eyes to add some dimension. The background is embossed using the Cuttlebug.
I think he did an awesome job with this and that it turned out super cute. What do you think?? :)
We had about 6 inches of snow on the ground this morning, so we spend the morning playing. :) It was great fun.
Have an awesome Saturday and a great, big, beautiful tomorrow!!
~*Shell*~