The Stamp-2-Spend challenge a couple of weeks ago was to create a card using the colors on your favorite (or one of your favorites) book. The 7th book in the 39 Clues series came out on February 2nd, and I used it for my inspiration. The colors were brown, gold/yellow, orange, and blue. The card I chose to create was for the 50th anniversary of my cousin (hope she doesn't look here!!!) in March. Because I'm completely taken with the tent cards at the moment, I ran off in that direction with my creative mojo. :)
All colored paper is from SU. The flowers were colored on the stamp with Watercolor Wonder Crayons and spritzed with water before stamped. The card front and white layer were cut with SCAl, as were the scalloped circles. The stamps and sentiments are from SU. The ribbon is from an unknown source. A Gelly Rollz clear glitter pen was used for the little sparkle dots around the scallops.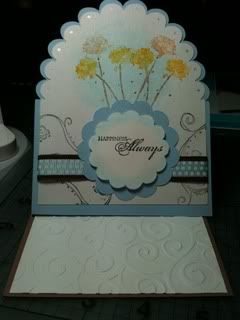 The inside was embossed with the Cuttlebug. I think the embossed white is just classy. :)
I will try to post again on Thursday night, but it will probably be Friday. I am presently on my way to see my oldest son - my Marine - graduate from the training school he's been in since December.
Thank you for your continued support of my blog!!! I still need thoughts, comments, suggestions, and preferences on what is offered here. :)
Have a wonderful Monday and a great, big, beautiful tomorrow!!!
~*Shell*~