As mentioned earlier this week, I used the remnants of my hummingbird silhouette to create another card.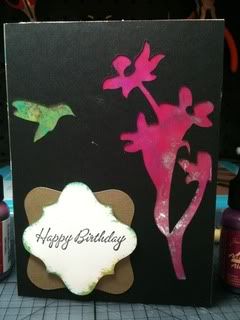 The remnant was placed on a card made using glossy cardstock (SU). The glossy layer was colored using an alcohol ink technique from Technique Junkies (link to the right --->). Half of the card used the reds and purples, but the other half (where the bird was), used greens and blues. The inks are made by Ranger.
Now, I need YOUR help! Please post a comment on this post to let me know what you want to see here on my blog - creations, tutorials, news, etc. Please be specific, too. If you want tutorials, let me know what KIND of tutorials you'd like to see. The same with creations and news. I really would appreciate your help!! Thank you so much for visiting my blog and for helping me make this more useful for you.
Have a wonderful night and a great, big, beautiful tomorrow.
~*Shell*~