Another Stamp-2-Spend challenge today. :) Today's was to create a card by CASEing (the sweet way stampers have of saying 'copying') one in the SCS gallery. Mine didn't turn out anything like the card I was CASEing, but I like what it looks like. I use my CASEing as more of 'inspiration' rather than copying because I ALWAYS have to change SOMETHING. Yeah, I'm that much of a control freak. :)
The card I chose to case is
here
. Because I've never seen a card quite like this, I searched for instructions on how to put together this most interesting creation. I found my instructions
here
. It's called a 'sidestep' card. I would like to make a tutorial for one of these some day. The tutorial that I used was good, but it used centimeters rather than inches, and that took a bit of extra work for me - the only thing I had with cm on it was my cutter!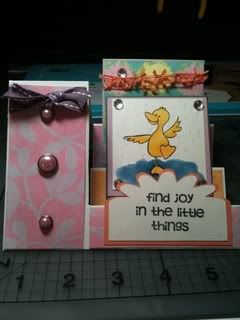 The card was created with designer paper from The Paper Studio, stamps from Clear Dollar Stamps and SU, and cardstock from SU. Ribbon, fiber, brads, a glitter gel pen, Copics, and adhesive bling helped give this card some spark and flair. Oh, and the Cricut and SCAL were used to create the little 'sentiment' box on the front of the card.
A side view of this card.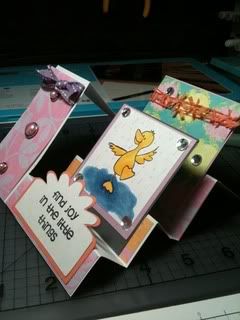 Up close on the raindrops and little duck (from Clear Dollar ... I love that duck!!!).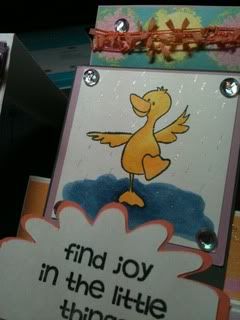 Please let me know what you think. I really had fun with this one and went outside my comfort zone. I don't use a lot of designer paper (although, I have a TON of it in the Haven), and I've never made a card quite like this before.
Have an awesome Friday night - go on over to
SCS
and play the
VSN challenges
. Fun stuff right there!! Oh, and have a great, big, beautiful tomorrow!!!