Well, not quite, but I need to get ready. I need to make about 25 Easter cards for our deacon families at church. Getting started early would help me have plenty of time to work on a good design and would allow me to not do them in a rush.
Using SCAL and my KutUps font, I created a unique card. Welded together are 2 rectangles and a scalloped oval. The card base is 4 1/4 x 5 1/2 to fit a standard envelope.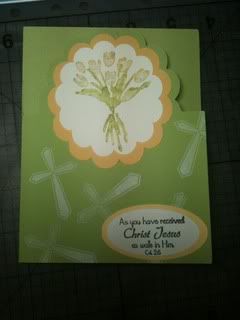 The layers were created in SCAL to perfectly match the scallop on the card.
A better view of the 'cut' card is here ...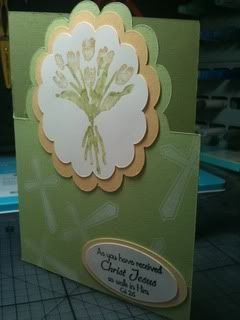 Watercolor Crayons (SU) were used to color the stamped flowers and stems. Memento was used on the sentiment. The sentiment ovals were cut using SCAL, as well, because my punches were too small. The inside sentiment is "Easter Blessings" from the Never Ending Joy set that SU has. The cross, stamped in white SU craft ink, is from an unmounted inspirational set, and the sentiment on the outer part of the card is from Beautiful Scriptures, a set made by Clear Dollar Stamps.
As always, I'd love to hear what you think of the card. I still need to make the other 20 - 23 of them, but at least I have a prototype now. :)
Have a fantastic weekend and a great, big, beautiful tomorrow!!! :)
~*Shell*~