I love the look of tent cards, don't you?? I just couldn't leave the idea alone, though. A few minutes with SCAL, and a new favorite was created.
The outside of the card....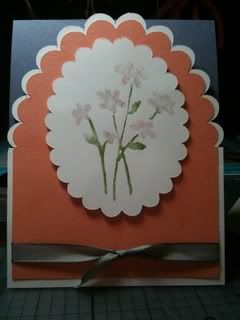 The card uses all SU paper and is cut using SCAL. The base is 4 1/4 x 51/2 with the fold at the top going across the 4 1/4 inches. The flowers were colored on the stamp (from Close as a Memory) with Watercolor Wonder Crayons and spritzed with water. Gray taffeta ribbon was added at the bottom of the front layers. A cross from an unmounted set was used to create a background by stamping it randomly on the layer with VersaMark.
There is a fold 1/2 way down the 5 1/2 inch front. The colored scalloped layer is adhered to the bottom 1/2 of that card front. When the card is open, it makes a tent - like a name card that sits in front of a chair at a dinner table. The bottom of the card on the inside was embossed with the Cuttlebug.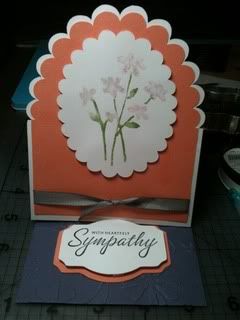 The punch with the sentiment was created on my Cricut using SCAL. I will put up a short tutorial on that either tomorrow or Sunday. Tomorrow is our Family Fun Day for February, and I'm in charge this time! :)
Please, let me know what you think about this card! I enjoyed creating it, but hated the reason for it.
Have a wonderful Friday night and a great, big, beautiful tomorrow.
~*Shell*~