I mentioned on SCS that my son made cards to send two long-distance friends, and several asked to see them. I didn't want to share them until I was sure they were received by the girls, and now, I know that they did get them last weekend.
Both cards were made with Cricut images. This one uses SU paper and a pink Copic marker to color his tummy and ears. The wiggly eyes add just a little extra dimension. The background is embossed with the Cuttlebug. The bunny image came from New Arrival, I believe.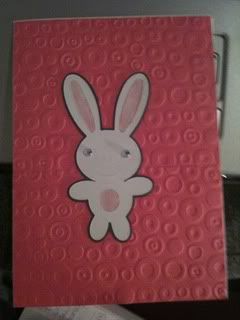 Doodlecharms gave Jonah the image of the dragonfly for this card. He used the Cuttlebug to emboss not only the background, but the wings. After adding a shadow and wiggly eyes, this card was complete. He actually got this idea from a card sent to me a couple of years ago by
The Pink Stamper
. :)
These will be the last cards from Jonah for a while, I think, but I wanted to make sure that everyone realizes just how easy it is to use the Cricut. Jonah is only 13, but he loves cutting the shapes with that machine. I think he can put cards together pretty darn well, too. :)
Tomorrow, I will have a special post asking for some of your opinions. I hope that you will respond and let me know what you're thinking.
Have an awesome day and a great, big, beautiful tomorrow!!
~*Shell*~