My mother loves hummingbirds, and I wanted to do a Valentine's card with that in mind. I found
this image
when searching for hummingbird silhouettes. The image was copied into Jasc Paint Shop Pro, converted to black and white - with very few tweaks, saved as a .jpg file, and traced into SCAL. After cutting the image, I had the beautiful silhouette pieces, as well as the 'scrap' piece from the cut out.
My mom's card used only black and white SU paper. The Cuttlebug was used to emboss the background.
The remnant piece looks like this ....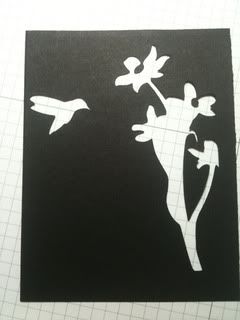 Throw it away? Not a chance. Later this week, I will show what I did with that piece. :) So, stay tuned.
Have a wonderful Tuesday and a great, big, beautiful tomorrow!! :)
~*Shell*~