Last year, my very super, secret pal on SCS made me a precious set of paper drawers. She did an amazing job and I LOVE them. They sit on my shelf in my Haven where I can see them and use them. A couple of days ago, I found
this tutorial
on how to make a set. This set isn't exactly like the ones Amy made me, but I thought they'd be fun to try. I figured that I could make a template for the SCAL and not have to cut as much.
Mine didn't turn out quite as pretty and as well made as the others I've seen, but I can work on that, I suppose. :)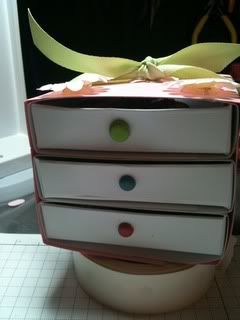 It was made using SU paper and GP white paper. The flowers are MM and were gotten at Michael's a few days ago. The ribbon is SU. I have no idea where the brads are from as I've had those for quite some time.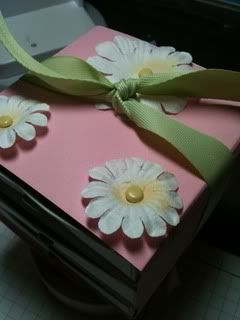 I want to try this project again when I get some time. I'm quite sure I can do a better job on it than this time. :)
Hopefully, my mom will like it, though. I'm giving it to her (filled with a few goodies) for Mother's Day. :) She's an amazing woman, and I love her so very much.
Have a wonderful Friday night, a great, big, beautiful tomorrow, and a very happy Mother's Day! Tell a mom that she's appreciated!!!
~*Shell*~