A friend was having a birthday party for her daughter. It was, of course, a princess party. :) :) I was asked to make a banner for the 'castle' entrance. Cutting the letters with the Cricut was an obvious choice, right?
The letters were cut at about 6 inches each and the font used was Black Chancery. The 12x24 paper by Cricut/Provo Craft was used for this project.
Once the letters were cut, I had a quandary : How do I hang these suckers up?!
The pennants were easy. Each one had 2 holes and string, ribbon, or whatever could be strung through those to hang them. The letters, however, had no such holes.....
As I was looking for ribbon (that I wanted to waste) to put behind each letter, I found my stash of tulle. Tulle .... Hmmmm ..... YES!!!
Each letter was adhered to the tulle and the pennants were hung as mentioned before.
This gave the banner a bit of a floating effect.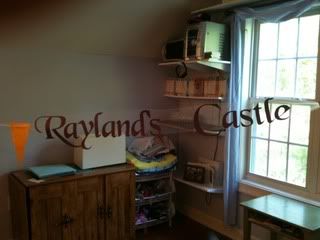 It's difficult to see with the busy background, though.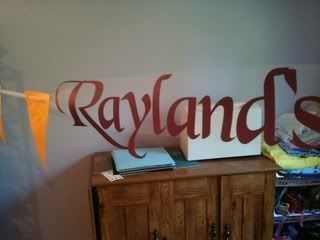 I think that I would do the letters in a lighter color should I do this again. The purple (which I thought looked ... majestic) doesn't show up as well as I would have hoped. The pennants were embossed with the Disney Princesses using the Cuttlebug.
The banner over Rayland Castle with 2 beautiful princesses under it.
Hope you have a great Friday and a great, big, beautiful tomorrow!! :)
~*Shell*~