The May challenge package came last week. A couple of the images were perfect to use for Mother's Day. My mother-in-law loves tractor images, so this one worked very well for her card.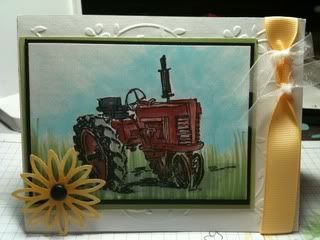 The embossed background, tractor image, and flower die cut were included in the challenge packet. The die-cut flower was actually white, but I used Copics to match it fairly closely to the ribbon color and added a brad to the center.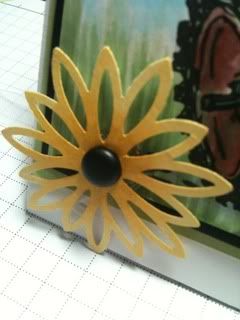 The tractor image, too, was colored with Copics. It was also placed on pop dots to add some dimension.
Both ribbons used are from SU.
My mother-in-law appeared to really like this card. I hope so. I really like the way it turned out.
I have taken a picture of one of the die-cut flowers so that I can import it into SCAL at some point. :) I like that flower. I think that will be tremendous fun to play with one day.
Have a wonderful Tuesday and a great, big, beautiful tomorrow!!!
~*Shell*~