How many cards can I get out of the May challenge kit?? Well, so far, I'm up to 4. I think I can get 2 more cards out of the things I have left. :) We'll see.
I thought the colors on this card turned out very pretty and that it would work well for my mom for Mother's Day - she's pretty darn special, ya know. :) :)
A wonderful friend on my Cricut thread over on SCS decided to clean out her crafting area. She decided, too, that she wanted to get rid of a few things. One of the tools that she chose to part with was the tag maker by MM. I told her that if she really, really didn't want it, I would love to try it out. Oh my. She sent the tool, as well as a TON of the rims that go with it. THANK YOU, DIANA!!! It gave me the freedom to make the tulip image into a metal-rimmed tag. I love the effect that it had.
The flowers at the bottom of the card were made by yours truly and worked great with the paper colors I chose.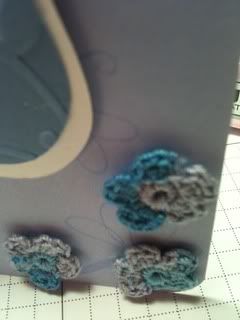 The paper is all SU, the image is colored Copics, and the blue and white background layers were cut using SCAL. The blue layer was embossed using the Cuttlebug. The dragonflies in the background are from a Clear Dollar Stamps set (All About Spring).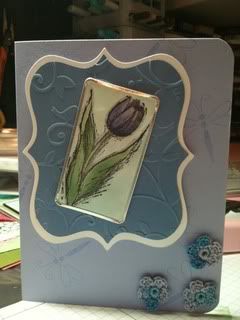 Another challenge card coming soon.
Hope you have a great Thursday evening and a great, big, beautiful tomorrow. :)
~*Shell*~