I've been working hard today. We have a graduation party to go to on Saturday. A friend is graduating and will be a 2nd grade teacher very soon!!! How exciting for her!! Anyway, here is her card .....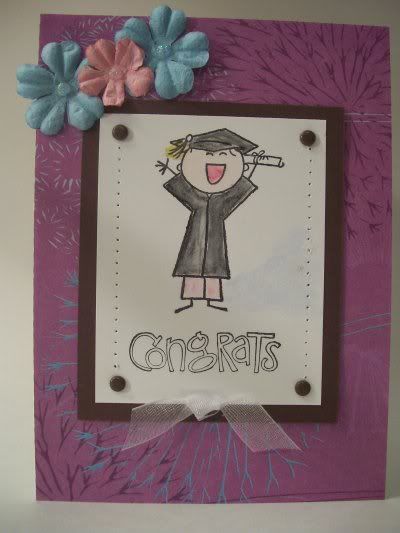 I used some designer paper from The Slab that I bought the other day. The image was gotten at Michael's (Big Idea, I think) and the Congrats was in one of the Studio G $1 stamp sets. It was stamped in Stazon and colored with Watercolor Wonder Crayons and the Aquapainter.
I won't get cards made for all of my friends and family, but I did get them done for the active Quackers and my Cricuteers. I sure hope they like them. They aren't very fancy, but I thought they turned out kind of neat. The vellum behind the image is embossed through the Cuttlebug (yeah, Robyn ..... I *AM* enjoying it .... :) ) with the snowflake folder. The image is stamped with Going Gray and Brillant Blue. I used stamps from 3 different sets - Solemn Stillness, City of David, and .... the one where you can make your own snowman. I can't remember the name. Sorry. The card base is the new Basic Gray.
And last, but definitely NOT least ... my elfee gift!!!!!! This is from
Joan B
. Such WONDERFUL goodies!!!!! Thank you SO much Joan. I can't wait to use all of the great things you sent. This picture doesn't show the cute little cards and envies that she sent, but they are in there. Everything is so cool.